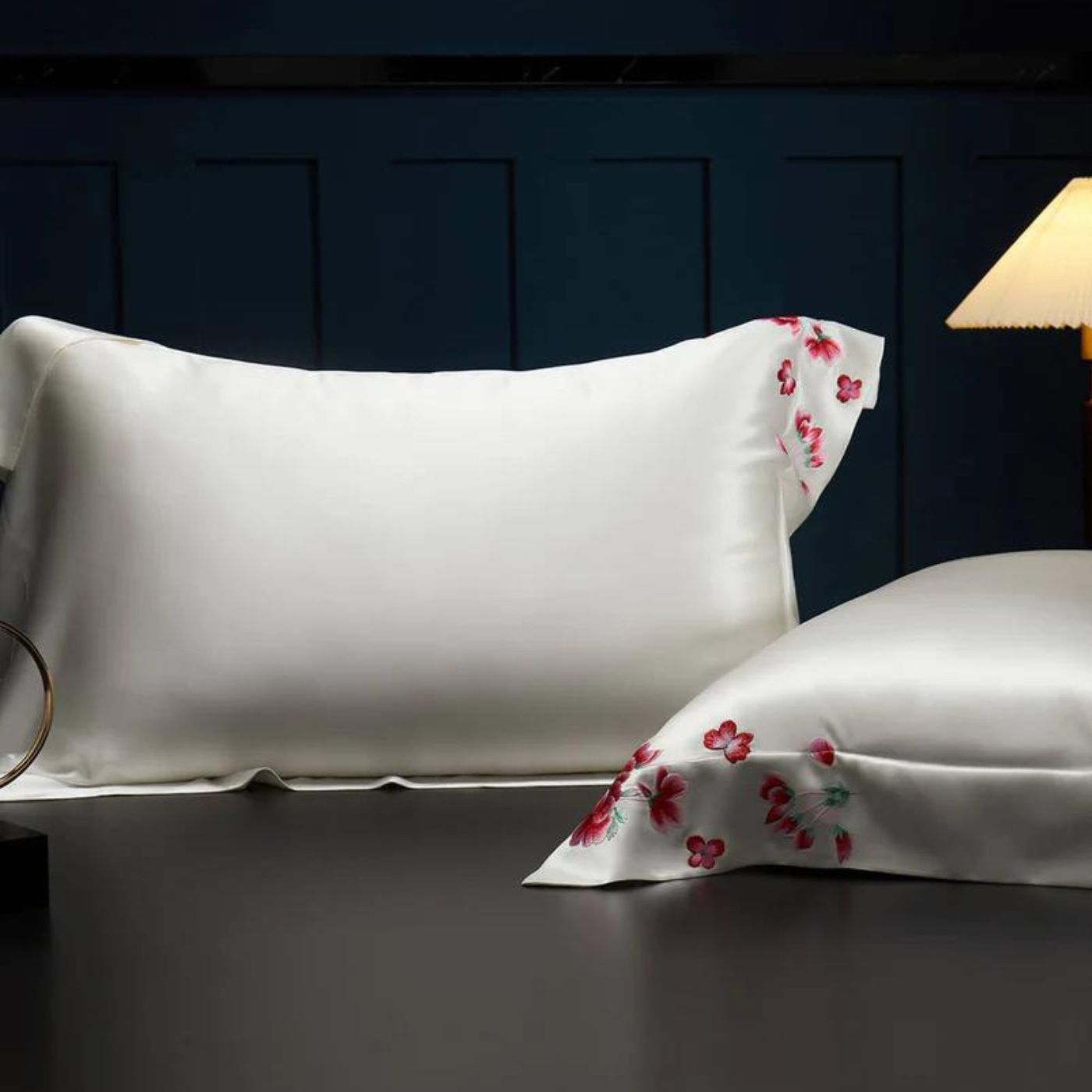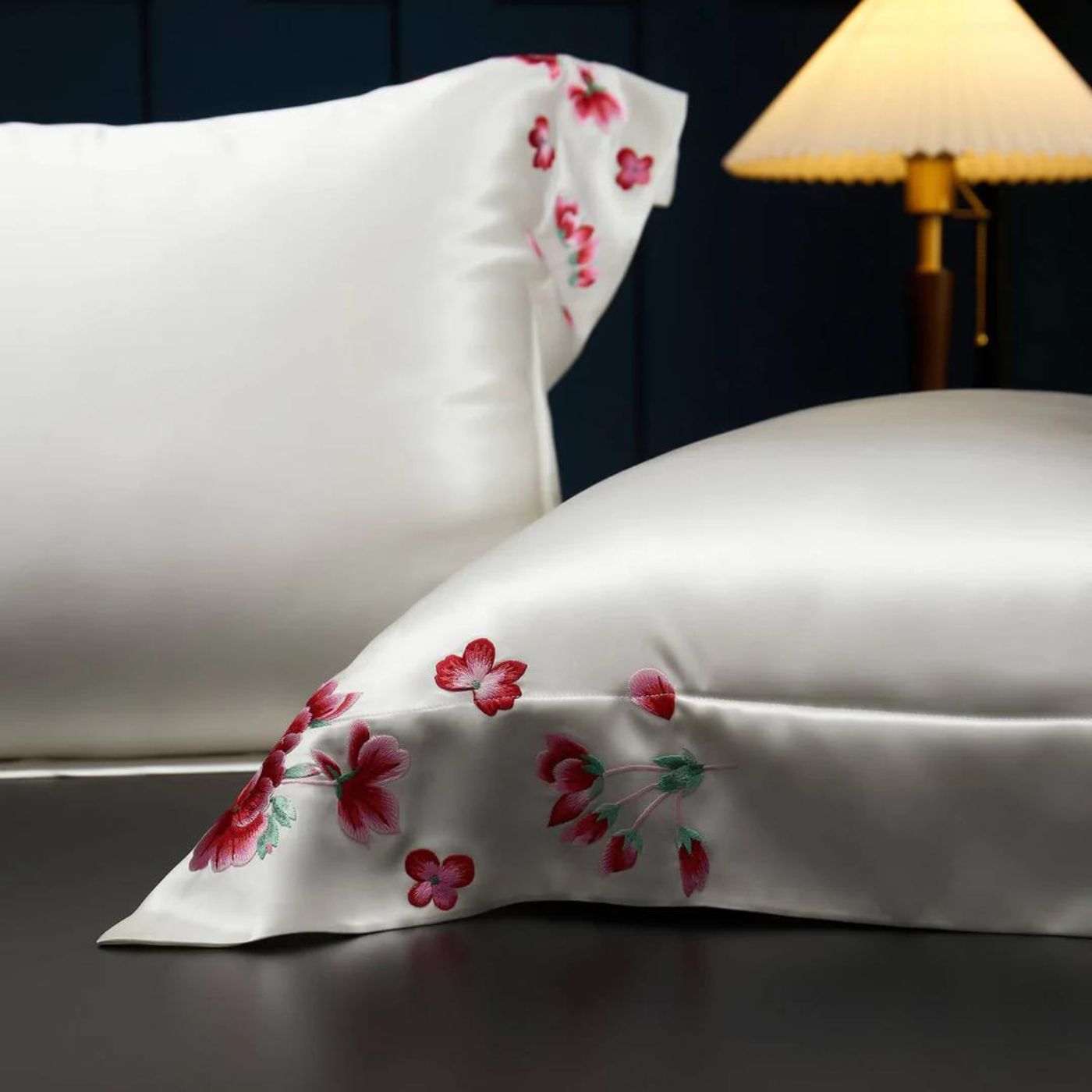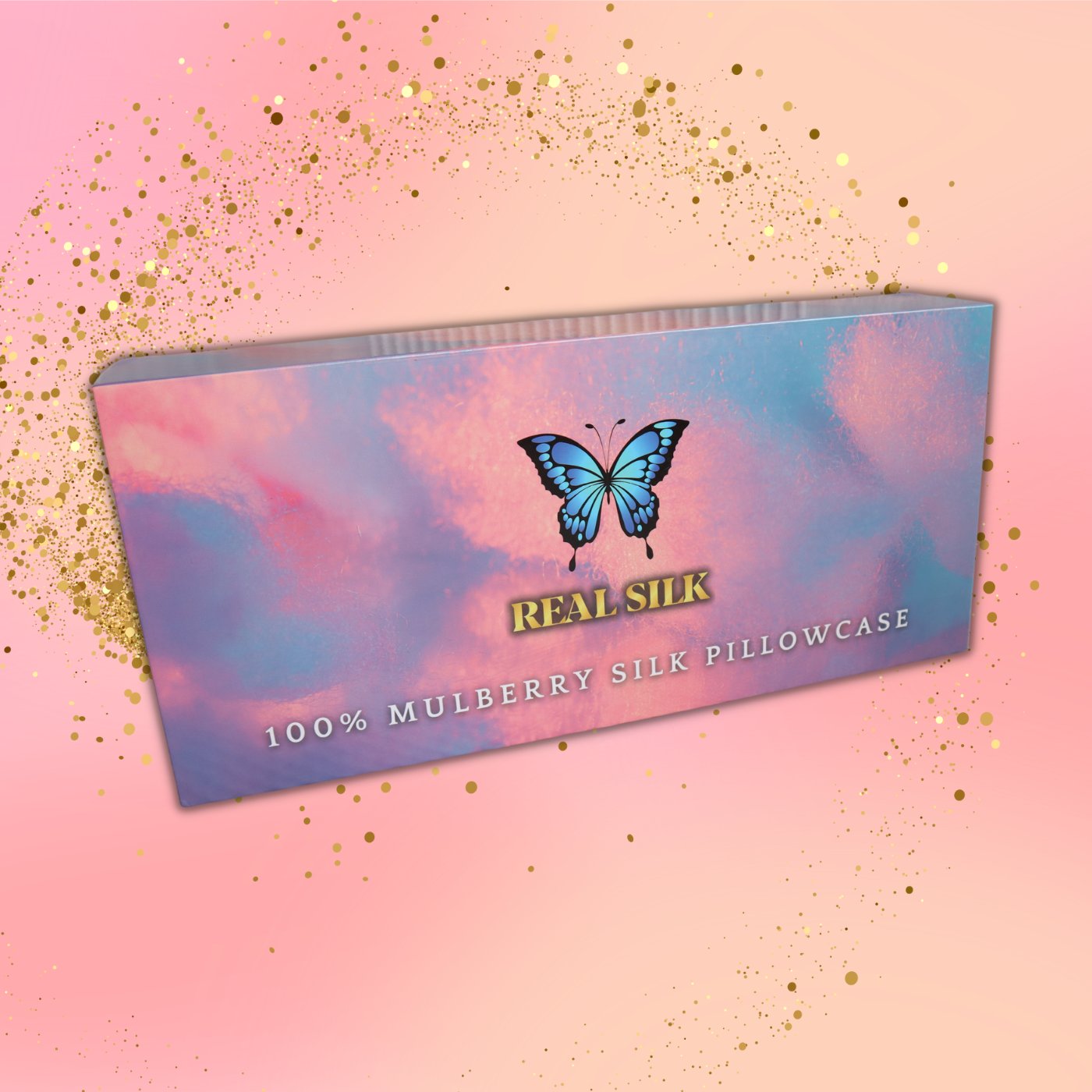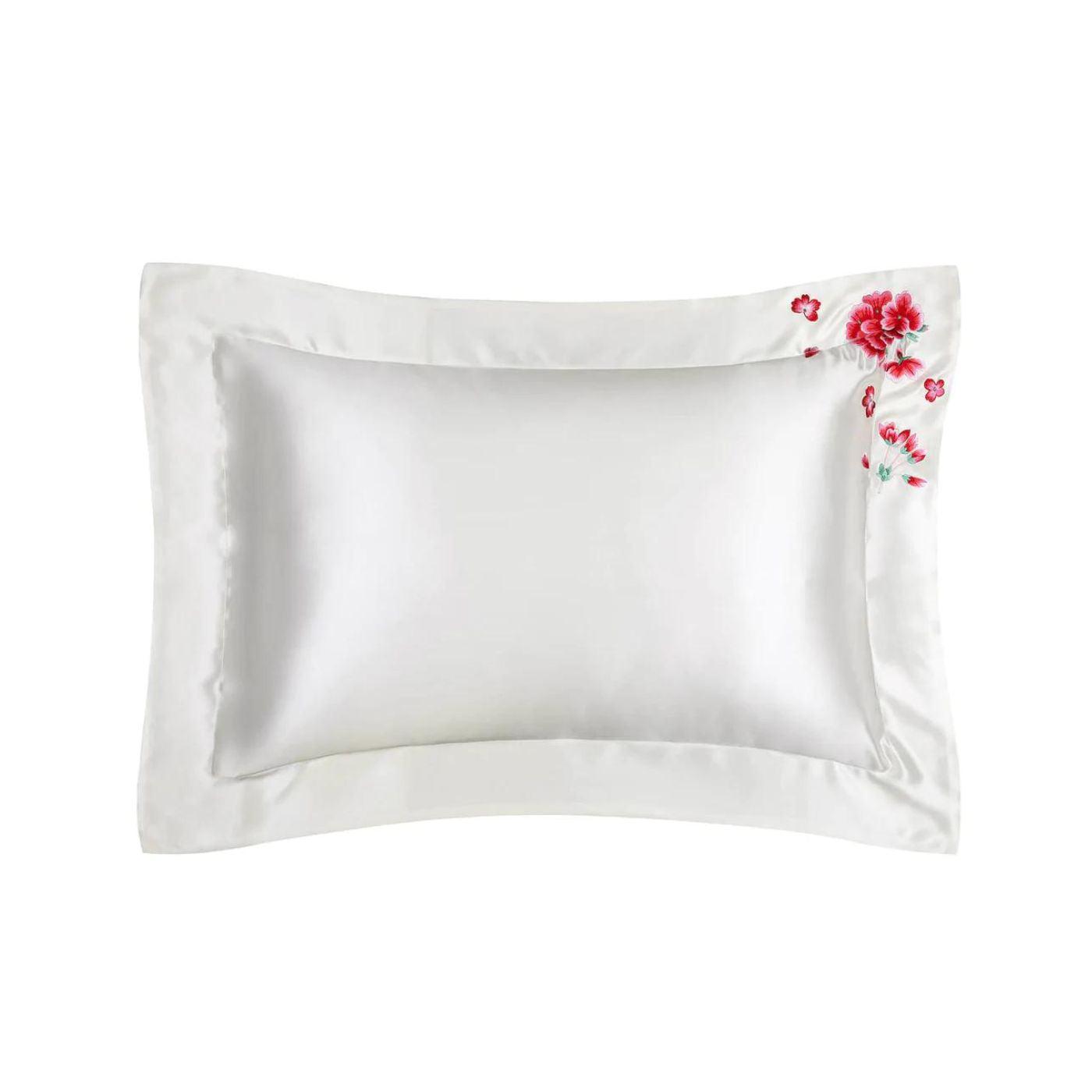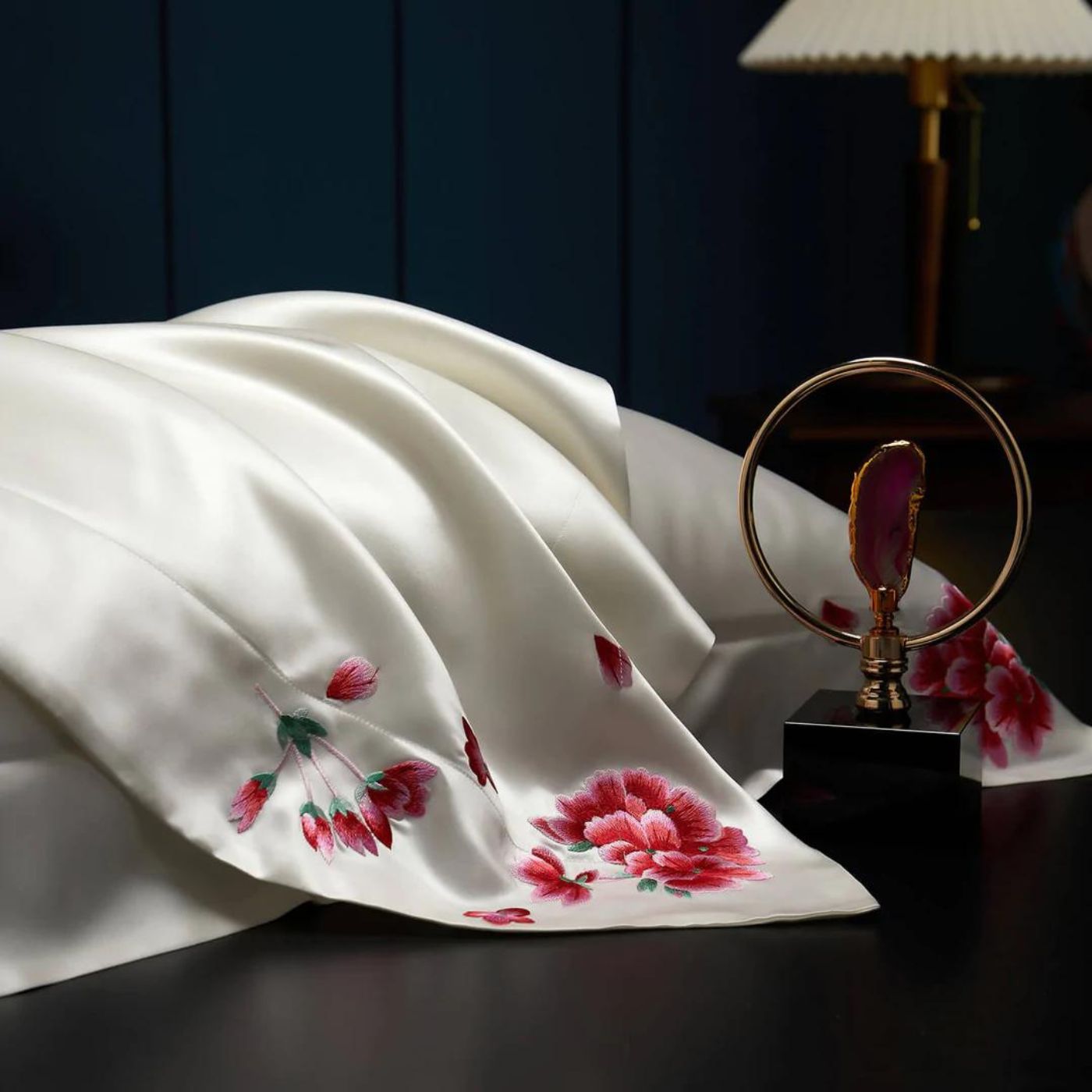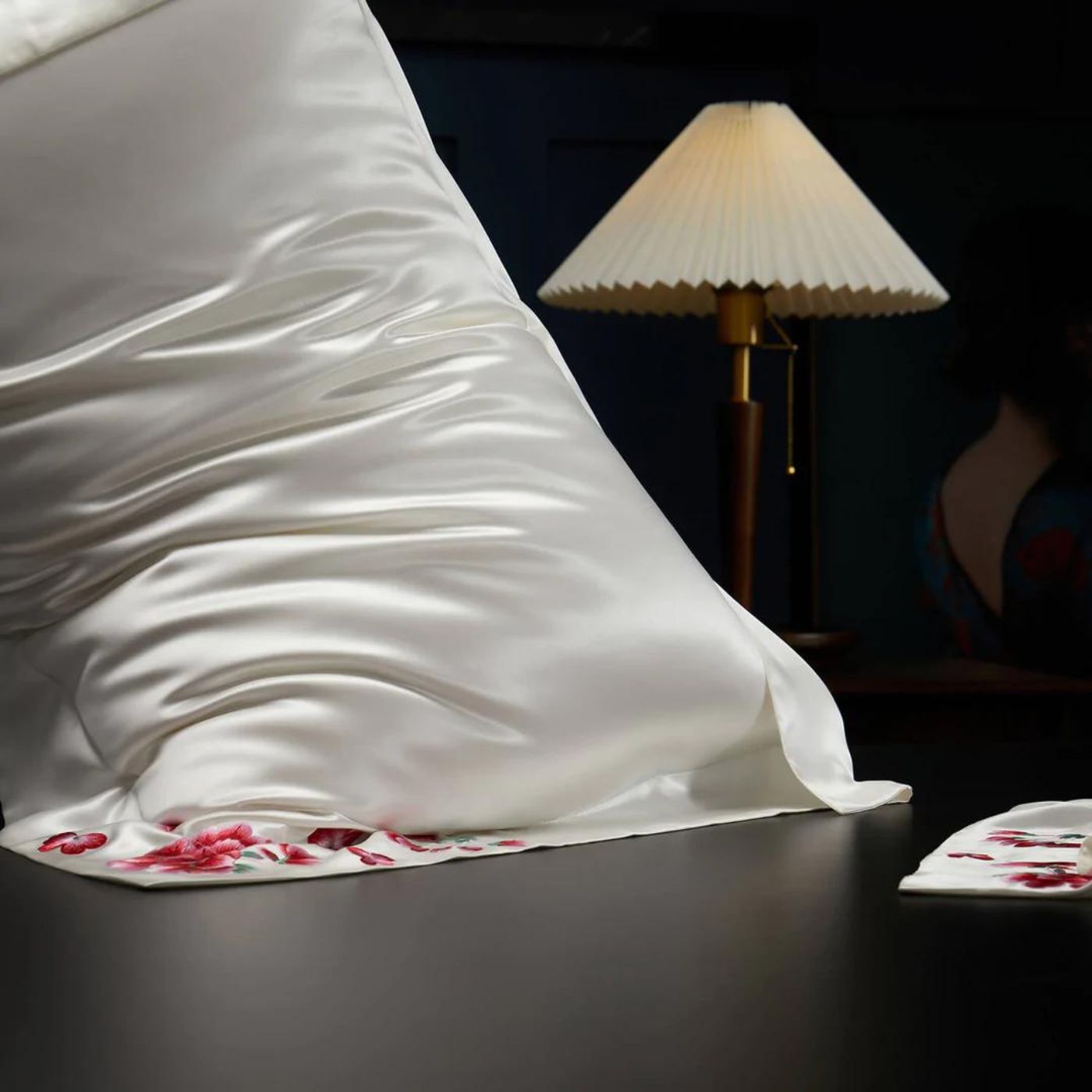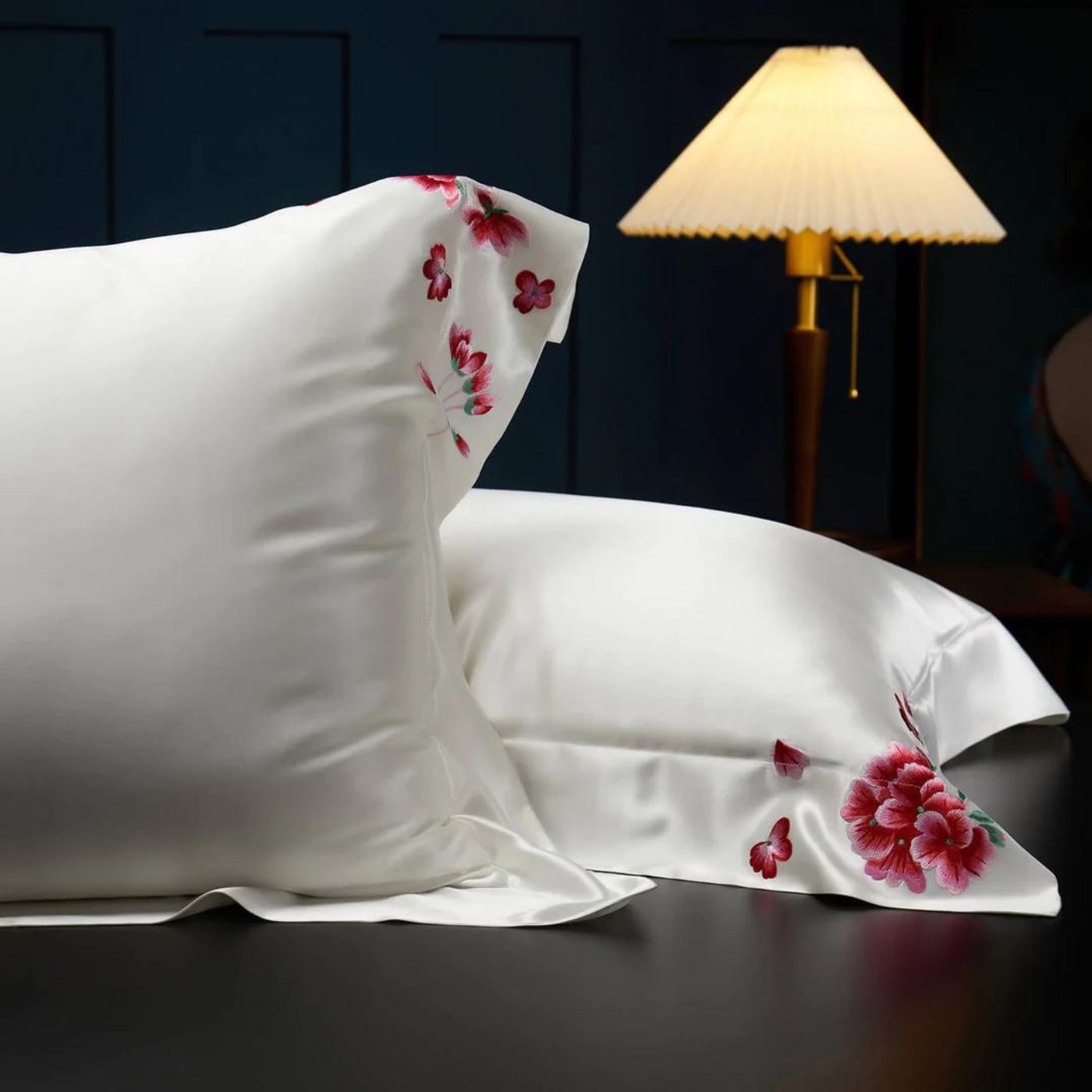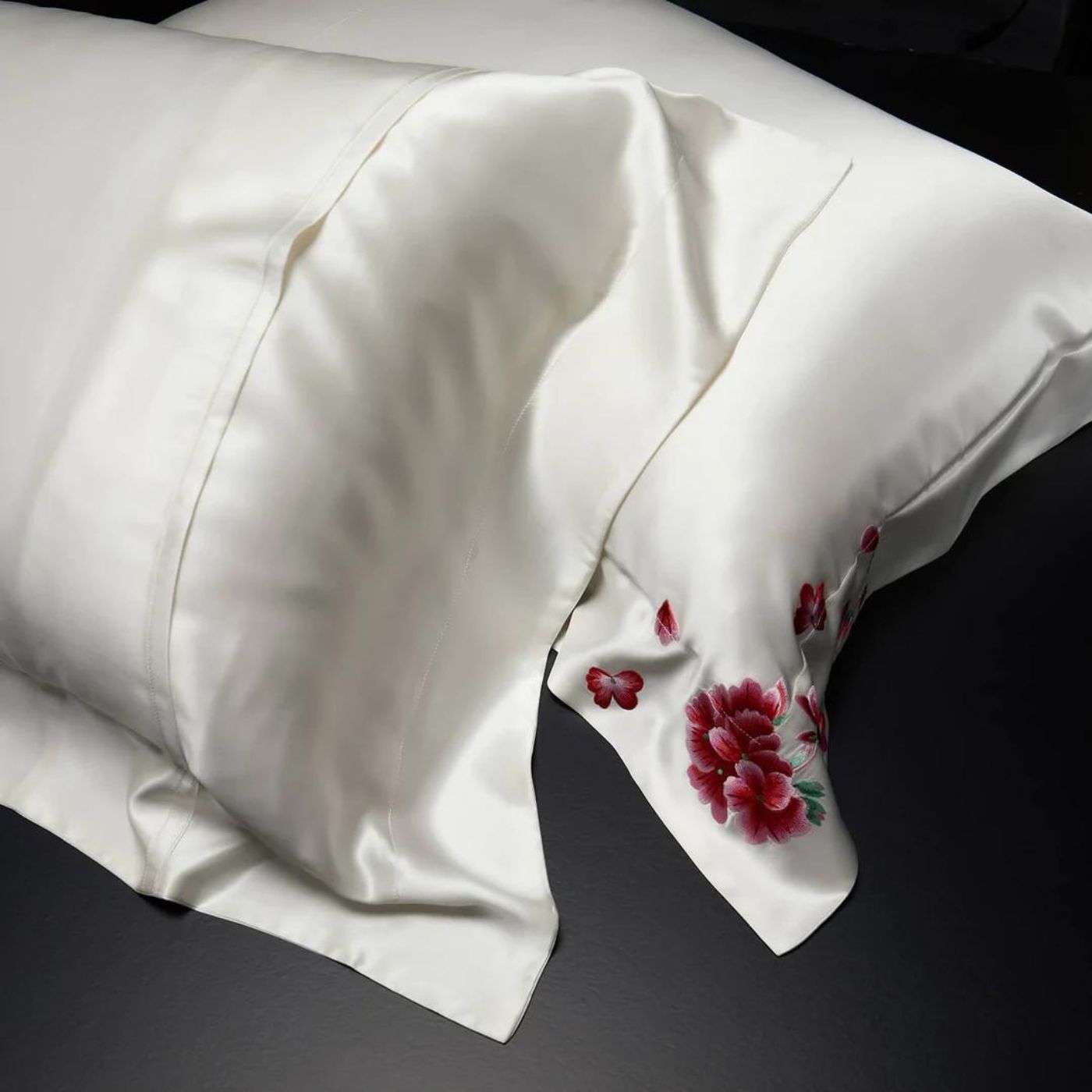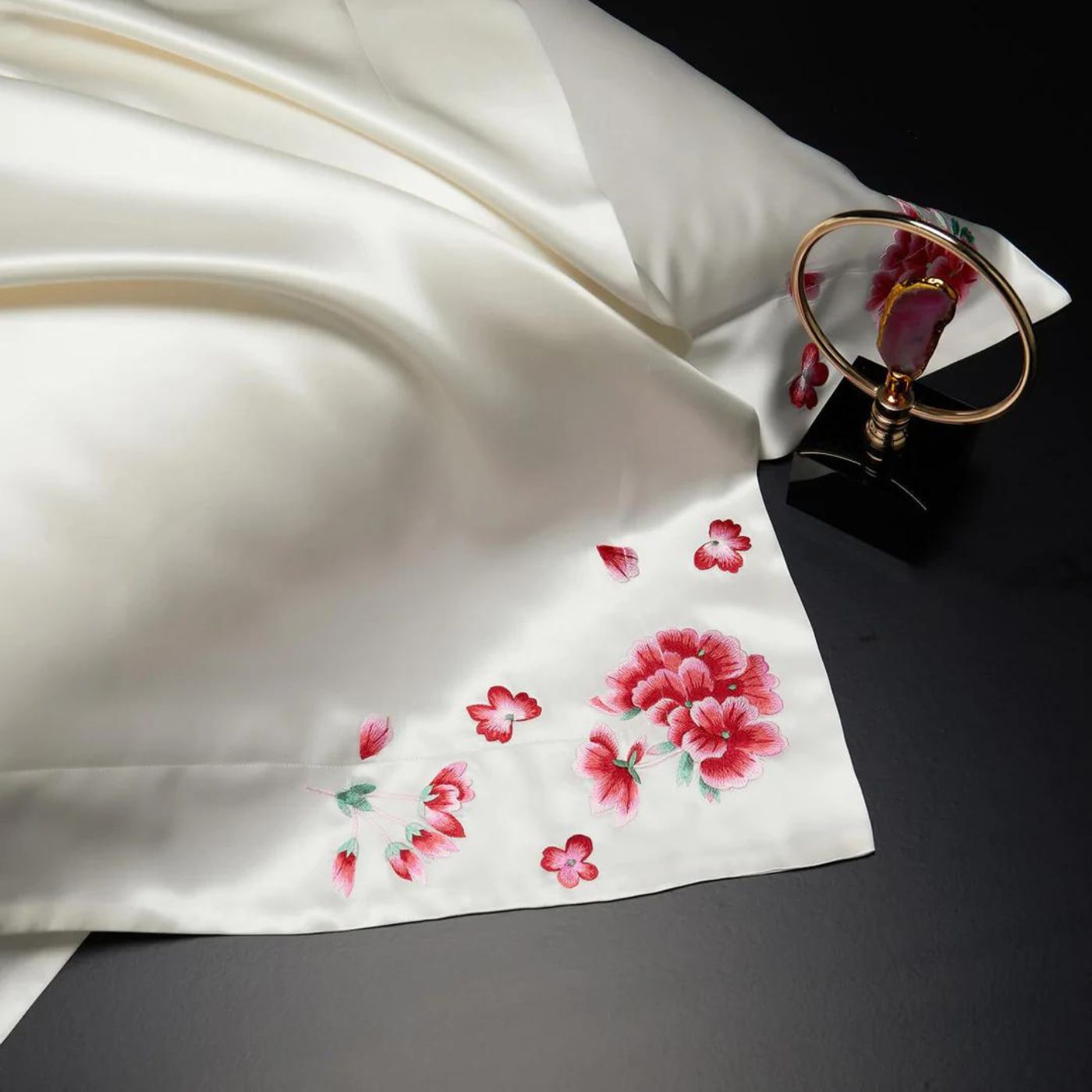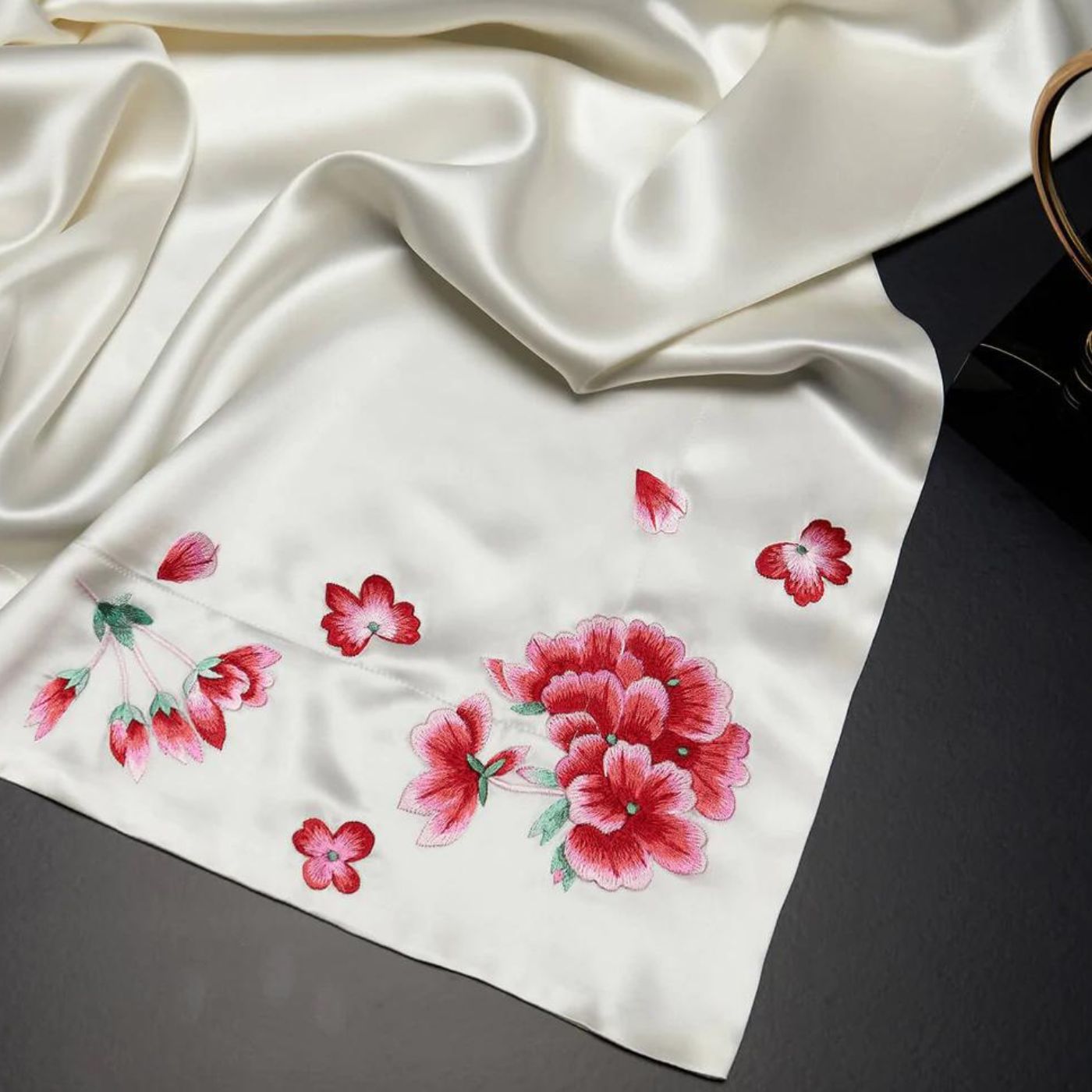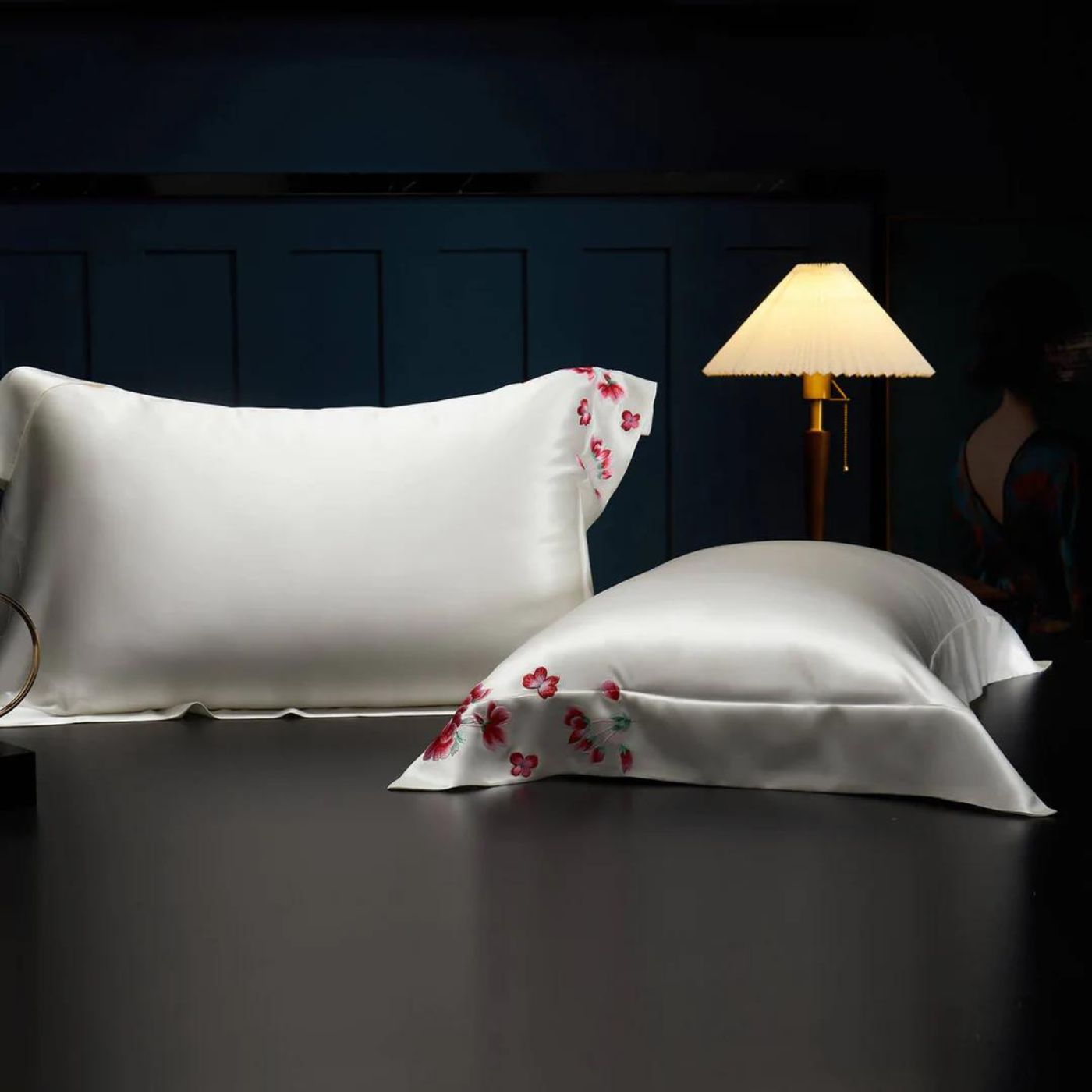 2 Primrose Embroidered 22 MM Silk Pillowcases White
Sale price

$198.00
Regular price

$132.00
(/)
---
Primrose Flower Embroidered 22 MM 2 Silk Pillowcase Set, White Envelope Closure
Our Luxury Pink Primrose Flower Embroidered Oxford Style Mulberry Silk Pillowcase in White is ideal for those looking for a unique silk pillowcase. The primrose is one of the first flowers to bloom in spring, lending it meaning as a symbol of youth and renewal.
Mulberry Silk Pillowcases are natural, breathable, extremely soft, and stylish. Silk pillowcases are the best when it comes to keeping your face skin hydrated, preventing unnecessary wrinkles, reducing hair to pillow friction and hair damage, preventing dust mites, bacterial overgrowth and allergies. 
Benefits & Features of our
Primrose

Silk Pillowcase
🦋 Limited Edition Primrose Flower Hand Embroidered Silk pillowcase

🦋 Primrose Flower is a symbol of Youth and Renewal

🦋 Prevent wrinkles, sleep crease and bed head

🦋 

Real Silk pillowcase helps you stay cool throughout the night

🦋 The finest quality (grade 6A) silk available on the market

🦋 Oxford Style Envelope Closure Pillowcase

🦋 OEKO-TEX certified: 100% mulberry silk, 22 MM, 600 Thread 
What is included in the package?
2 x 100% Mulberry Silk pillowcase
Luxury Gift Packaging
Silk Care Instructions
For Silk care instructions, including hand and machine washing, safe detergents, drying,
 

and ironing, visit our

 

Silk Care Guide.
What is Silk? 
Silk is a natural fibre known for its luster, shine, strength, and durability, and it has a long trading history across the world. Silk fibres are produced by silkworms when they spin themselves into a cocoon on their journey to becoming a Silkmoth.
What is so Special about Silk?
For thousands of years, silk has been considered to be the queen of fibers, from the empresses in China to the royalty of the Roman Empire. Until today, 
Silk remains the epitome of luxury due to its high cost to produce, soft feel, and elegant appearance.
Silk Quality

Our silk pillowcases are made from an exceptionally high quality silk. We use 22 momme 6A grade 100% Mulberry silk. Most similar brands use the lower quality 16 or 19 MM silk. In addition, the silk type that we use is much thicker and more luxurious. 
What is the Difference between 16, 19, 22, and 25 MM (Momme) 
22 Momme is one of the highest weight silks there is, which means it is higher quality, thicker and silkier than cheaper alternatives. Almost all silk you find at stores is 19 Momme or less, which is equivalent to 400 thread cotton which is much cheaper to produce. Our silk pillowcases are all 22 Momme silk, meaning that you get 20% MORE SILK per square inch than standard silk pillowcases. 
OEKO-TEX Certification
Our Real Silk Pillowcases are made from 100% pure mulberry silk that has been safety and authenticity tested and meets the strictest guidelines from OEKO-TEX (the leading international textiles standard).
Get your Dream Pillowcase today and start sleeping on a cloud! Once you try it out, You'll never go back to your old pillowcase.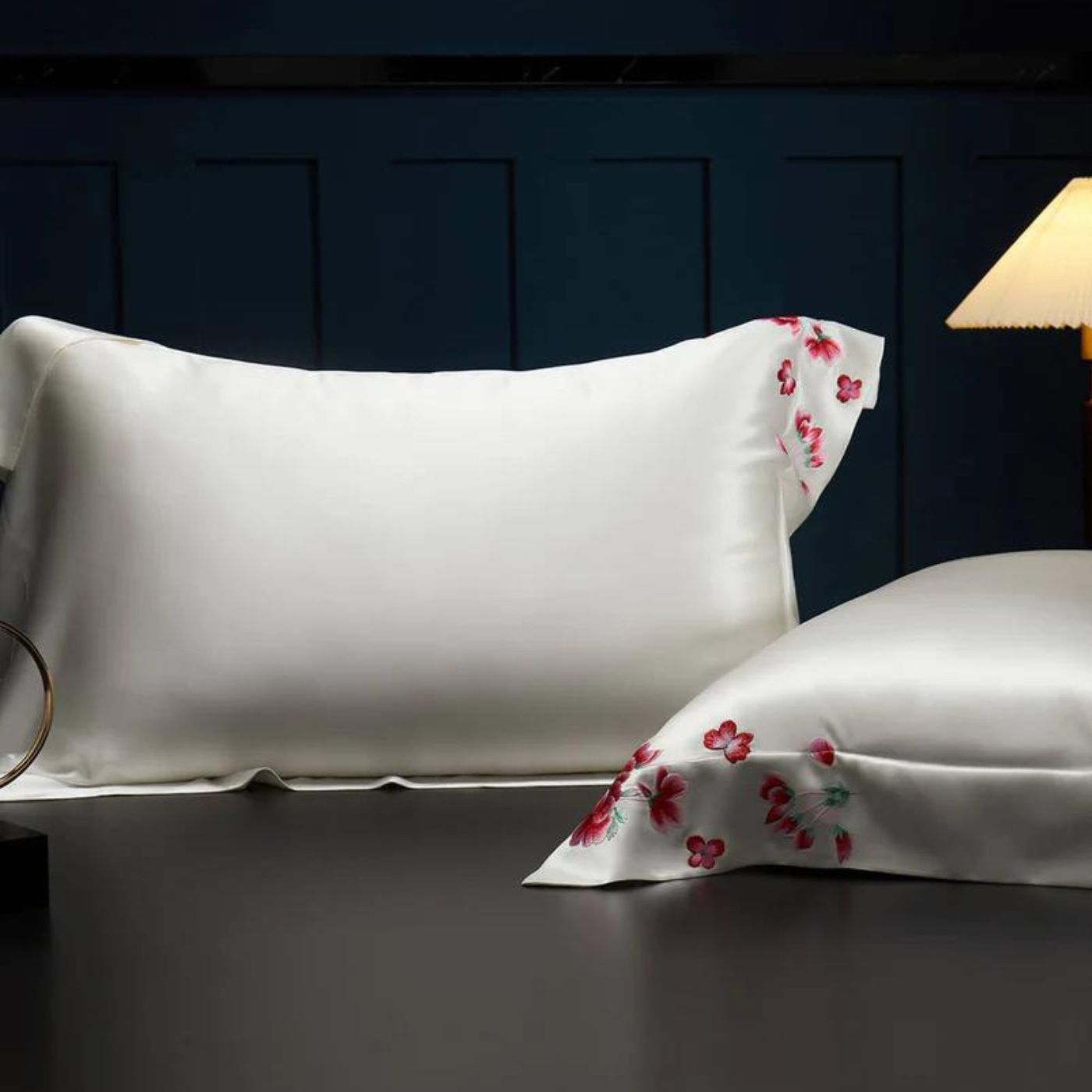 2 Primrose Embroidered 22 MM Silk Pillowcases White
Sale price

$198.00
Regular price

$132.00
Choose options